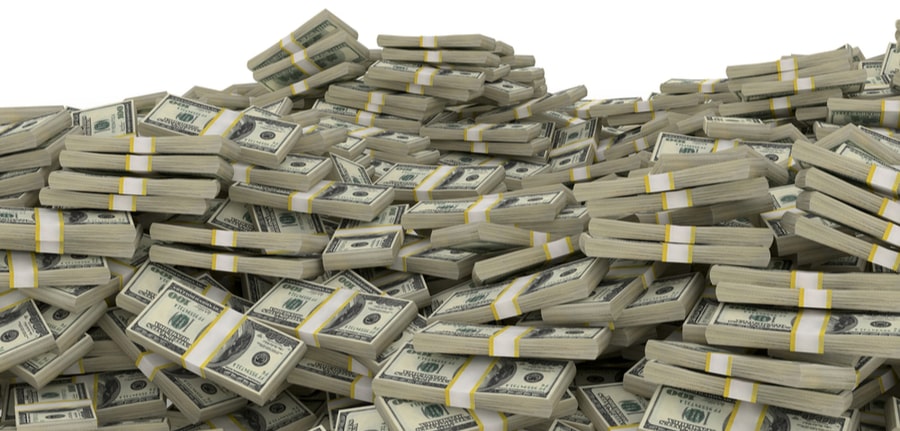 Now this one hits a little close to home: two Florida cities dolled out a whopping $1.1 Million dollars this week to payoff attackers for ransomware attacks. The respective ransoms, which were partially covered by taxpayer dollars and insurance payments, were in the tune of $500k for the City of Lake City and $600k for the City of Riviera Beach.
That's a lot of money folks, but it only represents the tip of the "cost iceberg" in such cases. As many businesses have unfortunately discovered, there are no data recovery guarantees with cybercrime! Moreover, the taxpayers of the affected cities will be spending lots more for the foreseeable future to fund "reactive efforts" tied to forensics, data recovery, cleanup, remediation, security, security awareness training, and other costs. The funds needed for those efforts will undoubtedly be taken from other areas of the respective city's budgets, and that usually translates into a reduction in city services, such as police & fire, education, sports & recreation activities, and other community-related investments. That means even if you don't work for the city  that was attacked, you most likely will feel the consequences. For example, the City of Atlanta spent well over $20 Million to date and Baltimore is not far behind that number thanks to recent attacks!
What's maddening about all this is that Ransomware and other cyber attacks are totally preventable today, if a "PROACTIVE" approach is taken towards maintaining and safeguarding IT systems & data, training employees, and implementing related cyber processes & policies.
The first step towards the above is understanding your organization's cyber risk & exposure, which brings me to the following question: When was the last time you had a vulnerability assessment carried out on your IT Network by an independent Cybersecurity firm? Yes, independent as in not by the fox guarding the hen house. Think of it, you already do so on the finance side of your business: the bookkeeper's work is checked by an independent source, which is usually your accountant or CPA. You need to employ the same approach of "checks and balances" for your business technology and cybersecurity.
A vulnerability assessment identifies the current threats, vulnerabilities, and potential exploits in your environment. The findings are used to identify & prioritize your risk and to further develop action plans needed to decrease your risk of attack while increasing the security posture of your organization. Given the rapidly changing threat landscape, these types of exercises should be scheduled to occur every three months (or less). The end result is, of course, identifying & implementing the proactive services needed to safeguard your business from cybercrime.
That said, we all have a role to play in fighting cybercrime. At Aurora InfoTech, we have the advanced solutions and the expertise to proactively protect your business systems, critical data, and personnel from ransomware and other cyber attacks that will cost you money, pain, sleepless nights, and could ultimately cost you your business!
Don't put your head in the sand and expect that ransomware will subside (because it most certainly will not), or that you won't eventually fall victim to a cyberattack. Ransomware attacks increased by over 156% just during the first quarter of 2019!
Take the first step towards implementing a proactive approach: Reach out to us to schedule a free Cybersecurity strategy session for your Central Florida or Orlando-based business.
#cybersecurity #orlandobusiness #orlando #centralflorida #aurorainfosec
The 7 Most Critical Business IT Security Protections
Free Report outlines the 7 Most Critical IT Security Protections Every Orlando Business Must Have In Place To Protect Against Cybercrimes, Data Breaches & Hacker Attacks
Cybercrime is at an all-time high, and hackers are setting their sights on small and medium businesses who are "low hanging fruit." Don't be their next victim! This report will get you started in protecting everything you've worked so hard to build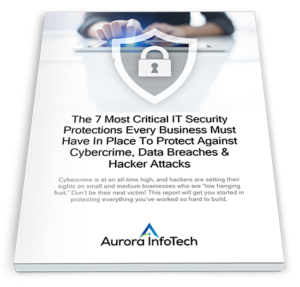 ---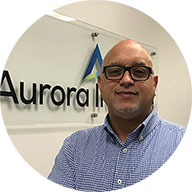 Roy Richardson
Managing Partner & Co-Founder
Roy Richardson is a co-founder, Managing Partner, and CTO of Aurora InfoTech LLC, a leading Cybersecurity & IT consulting firm in Orlando, Florida. He is also a co-author of the Amazon Bestselling book, "Hack Proof Your Business", a Cybersecurity guide for business owners & executive leadership.
Roy has 20+ years of executive management & engineering experience in the Cybersecurity, Information Technology, and Telecommunication industries. The vast experience he gained over the course of his career has given him a unique perspective that allows him to relate to a broad spectrum of business & technology challenges.