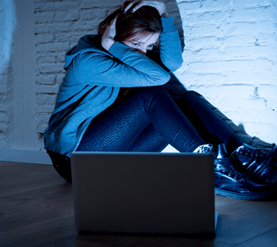 If you don't know, October is National Bullying Prevention Month and National Cybersecurity Awareness Month. These month-long events are dedicated to preventing cybercrimes – bullying and cyberattacks – and promoting security and safety within the digital space.
In this blog, you will learn how cybersecurity and cyberbullying are connected and how you can protect yourself against these cybercrimes.
Hackers Can Access Your Digital Accounts to Bully You
Imagine yourself opening up your social media accounts and feeling your heart sink when you realize people have publicly bullied you. It's sad and scary.
That scenario is being lived every day by thousands of digital users. Emails and social media accounts have been popular mediums for cyberbullies and hackers to torment their victims. These malicious bullying behaviors can range from targeting someone with hurtful and shameful information or images to constant threatening messages.
Hackers can bully you by impersonating your online profile
The impostor account hackers created may post derogatory information about you. Worse, they can use it to ask for money from your friends or family or simply cause chaos. In some cases, hackers will impersonate you or your business profile and use it to ruin your business by damaging your reputation.
Hackers may steal your content and use it against you
Another way hackers can bully you online is by stealing sensitive content about yourself, your business, or your family members. Some cybercriminals may steal your private information and demand money to not publicly post that data. That right there is also a form of cyberbullying.
3 Ways How Hackers Can Get into Your Digital Accounts to Bully You
Here are ways how hackers can gain access to your passwords and get into your digital accounts:
1. Phishing
Phishing is a form of social engineering. It is one of the most popular ways hackers use to steal a password. It happens when a hacker deceives a victim into opening a text message or an email by disguising themselves as a reliable source.
2. Keyloggers
A keylogger is a tool that records and analyzes a user's keystrokes while they use a phone or computer. The term is a shortened form of "keystroke logger". One of the primary methods keyloggers use to monitor you is by capturing what you type as you type it. Using this technique, the hacker has access to a wide range of information, including financial details, passwords, and private correspondence.
3. Bluetooth Hacking
Hackers employ specialized software that instantly locates nearby Bluetooth-enabled devices. Your device can be tricked into connecting to Wi-Fi and Bluetooth devices under their control. Then, they can infect your device with malware, spy on you, and even take data from your apps and text messages.
Ways to Protect Yourself Against Cybersecurity Attacks and Cyberbullying
Always create and use a strong password.
Don't ever share your pins and passwords with anyone – even your family members.
Limit the personal information and stories you share online.
Be more cautious with suspicious activities, especially in every email or message you receive online. Do not click on links you get from people you don't know.
Keep in mind that hackers can play with your fears. Don't be easily deceived by these scare tactics.
Cybersecurity and cyberbullying are strongly related. October is the month to be more conscious and aware of your digital security. Be sure to take the necessary actions to protect your online identity by minimizing the risk of experiencing these two damaging cybercrimes.
Do you want to know more about how to protect yourself and your business from hackers?
Call us today at 407-995-6766 or email info@aurorainfotech.com to set up your FREE discovery call with one of our experts.