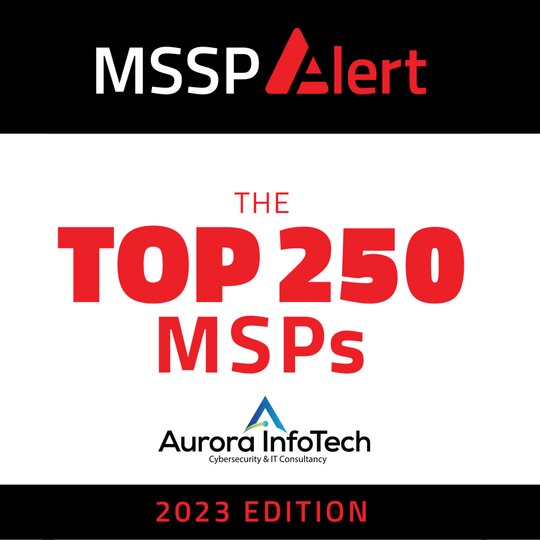 In a world where the importance of Cybersecurity is continually on the rise, it's essential to recognize and celebrate industry leaders who go above and beyond to safeguard our digital landscape.
Aurora InfoTech, a leading provider of Cybersecurity solutions, has made waves by securing a spot on MSSP Alert's Top 250 Managed Security Service Providers (MSSPs) list for 2023, ranking impressively at 214 and is the only firm from the North and Central Florida areas. This prestigious acknowledgment reaffirms Aurora InfoTech's commitment to delivering cutting-edge security services to its valued clientele.
Aurora InfoTech: A Beacon of Excellence
MSSP Alert, a prominent news and analysis source for managed security services providers, compiles the Top 250 MSSP list based on critical metrics. These metrics include revenue growth, Cybersecurity offerings, and the ability to manage and mitigate security threats effectively. Aurora InfoTech's stellar performance in these areas underscores its unwavering commitment to Cybersecurity excellence.
Roy Richardson, Vice President and Chief Security Officer (CSO) of Aurora InfoTech, expressed his excitement regarding the company's inclusion in this esteemed list. He attributed this achievement to the relentless dedication and hard work of the entire Aurora InfoTech team. Their consistent delivery of innovative and effective security solutions has been instrumental in securing this recognition.
Aurora InfoTech's Robust Cybersecurity Offerings
Aurora InfoTech boasts a comprehensive suite of services designed to meet the ever-evolving security needs of organizations across various industries. Their offerings include:
Advanced Threat Detection and Response: Swift identification and decisive action against emerging threats.
Network Security: Protecting digital infrastructure with a multi-layered defense strategy.
Endpoint Security: Safeguarding individual devices from security breaches.
Employee Training: Educating and empowering the workforce to become the first line of defense.
CSO Services: Chief Security Officer expertise to guide businesses in Cybersecurity strategies.
VoIP and Cloud Solutions: Ensuring secure and reliable communication and data storage.
Compliance Management: Navigating complex regulations and ensuring adherence.
Aurora InfoTech's services are carefully tailored to provide robust protection against modern cyber threats. Their commitment to staying at the forefront of industry trends empowers customers to safeguard their critical assets and maintain a resilient security posture.
A Trusted Partner in Cybersecurity
Aurora InfoTech's reputation as a recognized leader in the managed security services industry has made it a trusted partner for businesses in Orlando. Their focus on innovation and exceptional customer service sets them apart. They help organizations proactively address the challenges posed by the ever-evolving threat landscape.
In a world where cyber incidents and cyber threats are ever-present, the recognition of companies like Aurora InfoTech serves as a beacon of hope. It's a testament to their dedication to meeting and surpassing the highest industry standards. Aurora InfoTech's commitment to Cybersecurity excellence benefits its customers and contributes to the overall digital safety of our interconnected world.
If you want to know more about Aurora InfoTech's comprehensive Cybersecurity solutions, we invite you to explore their website at www.aurora-infotech.com or contact them directly at (407) 995-6766. Your journey to a more secure digital future begins with Aurora InfoTech.