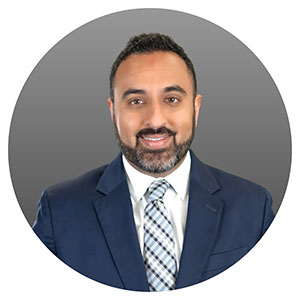 Hackers are very interested in real estate and legal offices because they store data like banking information for accounts containing large down payments. Because phishing and cyber scams in the industries are prolific, the real estate industry and legal profession are both heavily governed by regulations aimed at making transactions safe. Ahmad Sadiq, with his business Landtrust Title of Central Florida, is lucky enough to dance between those two worlds.
Similar to a notary, Ahmad, via Landtrust Title of Central Florida, contracts with buyers and real estate agents to collect information and complete transactional obligations to transfer ownership from the person or entity on title to the person or entity purchasing the property. Landtrust Title of Central Florida conducts real estate transactions throughout Florida.
From April 2019 when they opened until just over a year ago, Landtrust Title of Central Florida was using an in-house solution to manage their cybersecurity. Unfortunately, the platforms and programs they were using had embedded in them their own security protocol that wasn't compatible with their other programs. Furthermore, Ahmad found that his team was constantly struggling with phishing and spam emails, and there was not a lot of control over that internally. The in-house solution just wasn't cutting it anymore.
It was only a matter of time before the organization suffered an attack, and Ahmad knew the damage that it would have to their reputation and ability to do business going forward. That's when Landtrust Title of Central Florida reached out to Aurora InfoTech to help reel it in.
At the consultation with Roy and his team, Ahmad saw there was more that could be done to protect all of the company's data and information. From their meetings, Ahmad became aware of all the various ways information could be taken from his organization including through phone calls, emails, direct hacking, and internet access. When he saw that, he was ready to get the ball rolling and have the Aurora InfoTech team come in and back them up.
From the very beginning, Aurora InfoTech stood out. The people at the top were very hands-on and Ahmad appreciated that Roy, for example, who has a leading role in the company, was easily accessible. Within one or two days, Ahmad was able to get on a call with Roy where Roy related a good understanding of who Landtrust Title of Central Florida was and what they needed from Aurora InfoTech and outlined exactly what Aurora InfoTech could do for them. This brought a level of comfort and confidence to the table that competing companies just couldn't offer.
Ahmad, as an attorney and Landtrust Title of Central Florida owner, wanted to spot all the weak points. "We can be as proactive as we want," he says, "but we have to see the weak points from the perspective of those who would try and potentially attack the company." Roy was able to do that very well. Ahmad says, "Roy was able to reduce all of the technical terms that make me dizzy and break it down into terms that I can understand."
"The benefit of working with Roy and his team is that I know that they're working behind the scenes," Ahmad says. If there's an issue after hours, Ahmad has Roy's direct cell number to call to get it resolved as quickly as possible.
In addition, IT solutions not only need to protect but also inform and educate. Ahmad and his employees have been equipped with educational tools by Aurora InfoTech to empower them and proactively prevent potential cyberattacks.
As a result, Landtrust Title of Central Florida is empowered to comply and serve clients better than ever. Every few months now, Ahmad is working with Roy to make adjustments that alter the company's workflow to improve the client experience. "As we do that, we're becoming stronger and more protective of the information that we have," Ahmad says. "A lot of the hurdles we have, we're finding we can overcome by having systems in place that are efficient, effective, and protective."
Furthermore, clients appreciate having those added layers of security around protecting their information. Ahmad recognizes that a strong security system affects the feeling a client has when they leave the transactional table. Having the security systems Landtrust Title of Central Florida has worked with Aurora InfoTech to put in place, Ahmad is confident that each of his clients walks away feeling Landtrust Title of Central Florida values the protection of their information and that the transaction is secure.
To his fellow business owners in the same situation of thinking an anti-virus software and in-house IT team of one is enough, Ahmad relates that he's been there, and while nothing happened, the entities and individuals trying to get access to information are getting more and more sophisticated with time. "I think that having a good solution in your corner is key," he says. "Not only are Aurora InfoTech a good solution, but they are also cost-effective and take their time to educate the team."
On top of the information and the education that Roy and his team provide, they will hold you accountable as their client. For example, if Roy and Ahmad have discussed a task that Landtrust Title of Central Florida needs to implement, Ahmad will surely get an email reminder from Roy or someone on the Aurora InfoTech team. In this way, they always help to keep information security top of mind for Landtrust Title of Central Florida. "There's really nothing that I've asked of them that's been left off the table and they've held me accountable for anything that I've said I wanted or needed to do."
Thanks to the proactive efforts Landtrust Title of Central Florida has made in collaboration with Aurora InfoTech, the company is powerfully protected, remarkably informed, and on track for rapid growth in the years to come.