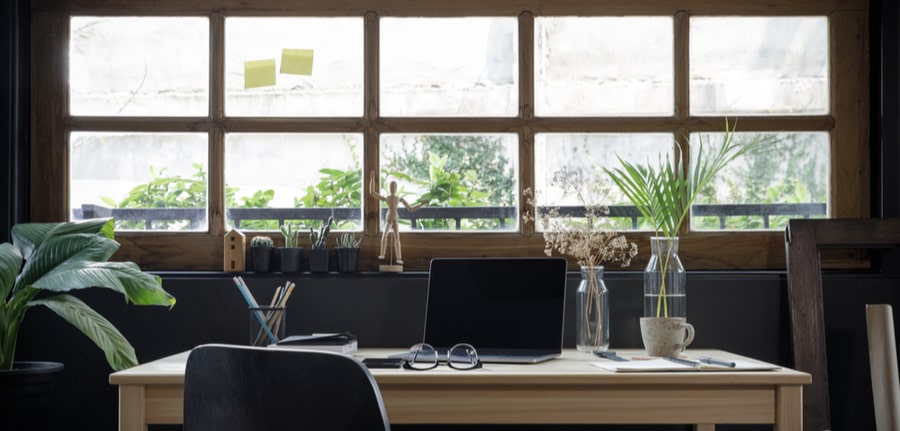 Tens of millions of workers have been forced to work from home as the COVID-19 virus rampages around the globe. That has naturally increased reliance on internet connectivity and disrupted a number of longstanding, well-established working routines. Some of the changes have been for the better, including not having to fight traffic during the daily commute, for example.
However, other changes have made it difficult to work effectively and efficiently. Until recently, no one has been able to study or precisely measure how those changes are impacting the legions of people currently working from home.
That is beginning to change. Recently a California-based tech firm called Fluxon published the results of a survey they conducted to get a better handle on how work behaviors have changed with so many people now working remotely. The results of the survey contain a number of surprises.
Here's a quick overview of the company's findings:
Nearly one quarter (23.3 percent) of survey respondents reported feeling more disciplined and almost a third (29.6 percent) report that they are more creative working from home than they were in the office.
Nearly three quarters (72.4 percent) of respondents reported that there have been challenges and difficulties with the transition, with the top ten problems survey respondents encountered being:

Technology/connectivity issues (50.6 percent)
Communication issues (39.6 percent)
Virtual Meeting issues (34.4 percent)
Lack of social interaction (32.5 percent)
Boredom (31 percent)
Difficulty collaborating with colleagues (29.9 percent)
Not enough face to face time with team members (26.3 percent)
Loneliness (25.1 percent)
Difficulty accessing company resources (19.1 percent)
Difficulty balancing work and home life responsibilities (18.6 percent)
Other issues included things like unproductive meetings, difficulty stopping or stepping away from work, insufficient workspace, and colleagues contacting workers outside of normal business hours. In addition to that, fully a third of survey respondents said they felt less disciplined and efficient since working from home.
The survey results are fascinating and clearly illuminate the challenges, opportunities, and areas where working from home can be improved. Wise is the manager who takes these statistics to heart and uses them to make incremental improvements.
Don't lose everything you've worked so hard to achieve in an instant!
Our Free Guide, "12 Disaster Planning Essentials for Business IT Networks: What You Need to Know to Avoid Losing Everything in an Instant" will be a real eye-opening for you and contains important information that can literally "save your business" in the event of a server crash, natural disaster, virus attack, or digital disaster.
Free Guide: Disaster Planning for Business IT Networks
Every business should have some type of plan in place for continued operation after a disaster. Hopefully, you'll never need it, but having a simple plan will make you sleep a lot easier at night knowing you have a way to continue to operate when disaster strikes.
This report will reveal 12 important planning strategies you should have in place now to protect yourself from common data-erasing disasters including natural hazards, human error, cybercriminals, hardware failure, software corruption, and other IT failures.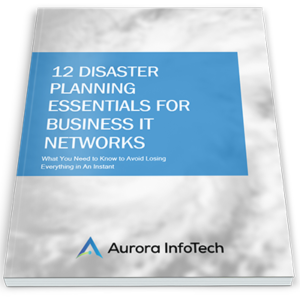 Need Help Implementing The 12 Disaster Planning Essentials Outlined in the Guide? Call us for A FREE Disaster Recovery Audit & Assessment of your IT Network? Aurora InfoTech is a premier managed services provider specializing in both network security and information technology. Give us a call today at (407) 995-6766 to discuss your network disaster recovery & security needs, and to learn more on how best we can secure your business IT network. Want more Tech Tips & Security Strategies? Sign-up for our Free Cyber Security Tip of the Week email to always stay one step ahead of hackers and cyber-attacks.
---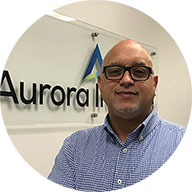 Roy Richardson
Managing Partner & Co-Founder
Roy Richardson is a co-founder, Managing Partner, and CTO of Aurora InfoTech LLC, a leading Cybersecurity & IT consulting firm in Orlando, Florida. He is also a co-author of the Amazon Bestselling book, "Hack Proof Your Business", a Cybersecurity guide for business owners & executive leadership.
Roy has 20+ years of executive management & engineering experience in the Cybersecurity, Information Technology, and Telecommunication industries. The vast experience he gained over the course of his career has given him a unique perspective that allows him to relate to a broad spectrum of business & technology challenges.