The COVID-19 Pandemic revealed a disturbing trend underlying the business world's increased reliance on technology. No, we're not about to decry technology itself. Nor will we downplay the endless list of ways in which tech has enhanced business owners' ability to reach more prospects, build meaningful relationships with clients and make the previously labyrinthine tasks of yesterday seem positively mundane today. There's no denying that the Internet age has empowered companies of all sizes to do incredible things and that technology is forever transforming the way we do business. Case in point, look at how we were all able to pivot to a work from home environment at the start of the COVID-19 Pandemic. A feat that certainly would not have been possible if it were not for our dependency on technology.
Today's savvy businesses are intertwined to an unprecedented extent with the technology they use. But there's a problem that goes along with this increased dependence. Despite the inextricable relationship today's companies have with IT, the vast majority – small to medium-sized businesses in particular – are neglecting critical aspects of their tech. They're skimping where they shouldn't, cutting corners wherever possible and, as a result, leaving themselves open to a wide variety of potential disasters. As a result, they put themselves at risk for exploitation by cyber attackers, hackers, and others.
Here are three IT investments where you should avoid underspending or risk shuttering your business forever.
1. CYBERSECURITY
Across the tech industry, it has practically become trendy to point out how woefully underprepared most businesses are for modern cybercrime and even more so given the recent work from home strategies caused by the COVID-19 Pandemic. But it's true: according to the FBI, complaints of cyberattacks increased by 400% while ransomware attacks increased by 800% during the Pandemic, statistics that have increased drastically with no signs of slowing down. Unfortunately, most small business owners assume that since they're the "little guy," there's no reason why a well-equipped and highly trained team of hackers would ever target their meager stores of data. But it's precisely these hapless businesses that end up being the low-hanging fruit for cybercriminals. Millions upon millions of dollars are stolen from SMBs each year, with most of it gleaned via vicious ransomware attacks.
2. PROACTIVE TECH SUPPORT
It's probably easy to imagine how a vicious cyber-attack could leave your business reeling, but there are equally insidious risks that could cost your business big time. Consider server failure, for example. No matter the caliber of equipment you're dealing with, failure is an inevitable risk of technology. But instead of being proactive, most business owners assume that downtime is a fact of the modern world. As a result, 73% of businesses have experienced some form of operations interruption in the past five years, causing a staggering $70 million loss, according to an infographic published in VentureBeat. The worst part? The vast majority of these outages are avoidable. The fact is that a cheap "break-fix" technology technician is only there to put out fires, not to prepare your business for success proactively. This reactive approach results in dramatically lowered efficiency and potentially thousands of dollars in lost sales – not to mention the cost of all those customers you lost while you were off dealing with a tech crisis. And that's only one example. Finicky software, stuttering computers, and failed backups may seem like small issues until you're in the midst of disaster and the costs are adding up. It's better to avoid these catastrophes in the first place.
3. TECH STRATEGIES TO BEAT THE COMPETITION
Technology isn't just a crutch we use to make navigating the marketplace easier; it can equip us with a set of tools that allow us to actively surpass customer expectations and streamline our efficiency, lowering expenses and empowering our employees. You can bet that your competition is doing everything possible to stay abreast of the latest technological trends, especially in the current work from home environment. Don't let them pull ahead. Instead, invest in solutions & strategies that will improve your workforce's security, collaboration & productivity to trim away precious seconds from inefficient processes and enabling your teams to focus on making your business succeed.
Concerned about the security status of your business IT network? We can help… Call us to schedule A FREE Consultation. Aurora InfoTech is a premier managed services provider specializing in both network security and information technology. Give us a call today at (407) 995-6766 to discuss your network security concerns and learn more about how we can help you secure your business IT network.
Want more Tech Tips & Security Strategies? Sign-up for our Free Cyber Security Tip of the Week email to always stay one step ahead of hackers and cyber-attacks.
---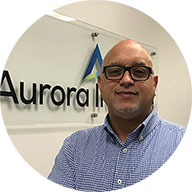 Roy Richardson
Managing Partner & Co-Founder
Roy Richardson is a co-founder, Managing Partner, and CTO of Aurora InfoTech LLC, a leading Cybersecurity & IT consulting firm in Orlando, Florida. He is also a co-author of the Amazon Bestselling book, "Hack Proof Your Business", a Cybersecurity guide for business owners & executive leadership.
Roy has 20+ years of executive management & engineering experience in the Cybersecurity, Information Technology, and Telecommunication industries. The vast experience he gained over the course of his career has given him a unique perspective that allows him to relate to a broad spectrum of business & technology challenges.
Free Guide: Disaster Planning for Business IT Networks
Every business should have some type of plan in place for continued operation after a disaster. Hopefully, you'll never need it, but having a simple plan will make you sleep a lot easier at night knowing you have a way to continue to operate when disaster strikes.
This report will reveal 12 important planning strategies you should have in place now to protect yourself from common data-erasing disasters including natural hazards, human error, cybercriminals, hardware failure, software corruption, and other IT failures.